Archivio per il tag:
big mom charlotte linlin
Just Epic!
Germa 66, is a paramilitary organization. The Vinsmoke Family is at the top of the organization, with Sanji's father operating as its boss.
Germa 66 have recently joined the Big Mom Pirates, as part of a political alliance between the Charlotte and Vinsmoke Families.
As the Sanji retrieval team finally reached Big Mom's territory, their signal was detected by underwater sea slugs and they were subsequently discovered by Germa 66's own ship.
Germa 66 has a large ship which resembles a Den Den Mushi, with a snail head at the front and its "shell" appearing to be a castle-like fortress. The ship has one mast at the top of the ship, which carries a large black sail with the number 66 on it. The ship appears to be at least three times as wide as the Thousand Sunny.
Well, let's begin.
-Sanji never hits a woman, right?
-There was one instance when he actually tried to. That was when he fought Kalifa. Sanji tried to finish the fight by pinning her down with his leg, but she escaped. Kalifa then called Sanji a coward, and he lost it. He yelled at her, telling her to shut up, and then he tried to kick her. She managed to dodge the kick, but if she wasn't so quick, the kick would've definitely connected.
-So Kalifa calling him a coward made him so angry that he abandoned his chivalry and attempted to kick a woman? This leads me to believe that "coward" triggered a traumatic memory, which is why he lost it. Perhaps his father used to beat up his mother, and his mother would retaliate by calling him a coward. Sanji hates his father for that, and he nearly lost it when he thought about him. This is a bit unlikely, since hitting Kalifa would only make Sanji act like his father even more.
-So perhaps his father used to beat up his mother, and Sanji never helped. One day, his father went too far, and killed his mother. In her last dying breath, she managed to call Sanji a coward for not helping her. Kalifa calling him a coward made him remember how he didn't help his mother when she needed him, and he didn't want the same thing to happen to Robin, so he got angry and tried to get the key with force.
-It's possible that he ran away from home after this incident. He probably snuck onto the Orbit, where he learned how to cook. Maybe his mother was a cook, or maybe she wanted him to become a cook, and Sanji wanted to honor her.
-His father must have been looking for him all this time. When Sanji got his first bounty, his father probably thought it was somebody else (since the picture looked like Duval). When the real picture was revealed after Dressrosa, he must've requested him alive so he could successfully join forces with the Charlotte family through Sanji. But how would somebody like Sanji's father make Sanji wanted alive only, especially when the Germa 66 have been fighting the Marines?
-It's possible that he was hired by the government to keep an eye on Big Mom, or maybe he was hired to let the government know about underworld events. Maybe he blackmailed them, like Doflamingo did. Either way, the Government is hiding something. Maybe they're secretly working together. Quid pro quo, eh?
-Who is his father though? I believe we have already seen him. Vinsmoke has the words Vin (wine) and smoke in it. This underworld broker is smoking while drinking wine. Not only that, there are curls under his wine glass, similar to Sanji's eyebrows. The other guy there might be one of the brothers.

-There was one more instance when Sanji abandoned his chivalry. That was in Jaya. He told Nami he would protect her no matter what was in the forest, yet when a tarantula appeared, he ran away and told Usopp to get rid of it. When a bunch of moths and centipedes appeared, he acted the same way, even though he told Nami he'd protect her no matter what was in the forest. He said he couldn't stand creepy crawlies, but he wasn't scared of the giant ladybugs, so it was only the tarantula, moths, and centipedes that scared him. I have a feeling that those 3 have something to do with his past. Maybe those 3 represent his father and 2 older brothers. Since the tarantula appeared first, that's probably the one that represents his father. Maybe he has a tarantula Devil Fruit. Since he's an assassin, the powers of a tarantula would suit him well.
-One son might have a moth Devil Fruit, another Devil Fruit that would suit an assassin. Most moths are capable of flight, poison generation, wall crawling camouflage, and enhanced senses, which include night vision.
-Well what about the second brother? I believe he is Killer. Yes, I know that's a very common theory, but I have my own original reasoning for believing so. Killer's favorite food is pasta, which is Sanji's cooking specialty. That's not all. So the father represents the tarantula, and one son represents the moth. That son could be Killer, but I don't think so. That would mean that Killer represents the centipede, and believe it or not, he shares many similarities with the centipede. There is a centipede called the Killer Centipede. They share "Killer" in their name. The Killer Centipede has sharp hooks on its body, which it uses for offensive purposes, just like Killer. It's also blind, and it uses advanced senses to move around. I'm not sure if Killer is blind, but seriously, how does he see with that mask? Observation Haki? In other words, advanced senses?
-Putting Sanji's father aside, maybe Onigumo has something to do with Sanji's fear of tarantulas. He does seem to have a spider Devil Fruit rather than a tarantula, but hey, Tsuru was stationed in North Blue, maybe Onigumo was stationed there as well.
-Sanji will probably face off against his father at some point, and if he does, he might use knives. Why? Because fried spider is a delicacy in some cultures, so if his father is in his Zoan form, Sanji might bend the rules.
*Theory by Samurai Rengoku
The Vinsmoke Family is a family of killers that commands the 'mythical evil army' (as described by Nami) known as Germa 66, and have a large presence in the Underworld. They may possess considerable clout with either the World Government or Marines, as Sanji presumed that his family had orchestrated the change in the condition of capture for redeeming his bounty, from 'Dead or Alive' to 'Only Alive'.
The family is currently known to consist of a father (the family patriarch), and at least three sons (of which Sanji is the third). The patriarch is known to be an infamous man throughout the New World.
It is revealed that the leader of the Vinsmoke family, Sanji's father, arranged for him to marry the 35th daughter of the Charlotte Family, Charlotte Purin. Sanji, shocked that his past has been brought up again, believed that his family were also responsible for him now being wanted only alive. With the intention of putting an end to his past, Sanji reluctantly left Zou to attend the wedding.
Who Will Stop Sanji's Wedding?​
​
Sanji's wedding is very near to happen now, we're thinking about Purin the 35th daughter of Charlotte LinLin the future wife of Sanji but I believe someone will sneak in onto wedding hall to stop the wedding ceremony. Luffy, Nami, Brook, Chopper, Pekoms and Pedro are on the way now to Whole Cake Island to rescue Sanji and when they arrived there, the hungry Luffy will gonna eat that delicious island hehe just kidding! x) Let's get serious I believe when Luffy and the others arrived on Whole Cake Island they will separate to each other to fight different underlings of Big Mom.
The one who'll going to stop the wedding ceremony of Sanji is none other than Nami to pay her debt to Sanji. Remember Sanji saved Nami on her wedding to Absalom so it is necessary that Nami will stop Sanji's wedding.Do you guys remember on which point of wedding ceremony Sanji saved Nami?
Sanji saved Nami by the time Absalom is gonna kiss the bride, maybe Nami will arrive on wedding hall by the time the groom and bride will gonna kiss each other like what happened at thriller bark on her wedding.
Now let me give you another reason why Nami is the one who will stop Sanji's wedding.
Please take a look at the very left corner of the manga chapter 811 coloured page, there is something written on it and it says "We're revealing exclusive story board sketches by Oda sensei himself! Check out the brand new information about the One Piece film Gold on the next page".
​
Maybe the real meaning of that words IS "ODA HIMSELF! is revealing an EXCLUSIVE STORYBOARD SKETCHES SO CHECK OUT THE BRAND NEW INFORMATION" because in this chapter coloured page not only the information about One Piece film Gold is what Oda's trying to reveal, in this coloured page there is something special that Oda already revealed and it is something special to Sanji.
Please take a look at Sanji, he is holding a can and CIGARETTE on his hand And! as you can see on his FINGERS he is wearing rings EXCEPT ON HIS RING FINGER. PLEASE LOOK CAREFULLY AT SANJI'S RING FINGER, IT IS POINTING TO THE ORANGE HAIR OF MYSTERIOUS GIRL. As you can see in the picture Sanji's RING FINGER is the only finger which is pointing to the orange hair of a mysterious masked lady. I guess you already have an idea on who's this girl with an orange hair right?
Ring Finger = Wedding Ring has a big role in wedding
Ring Finger pointing into Nami = Nami will gonna have a big role in Sanji's wedding???
Now let me add something, maybe Chopper will also have a big role on Sanji's wedding.
Please look again in chapter 811 colored page, notice the smoke of Sanji's cigarette, its direction is going into Chopper's horn and look at chopper's horn there is a some kind of ring there, is that also a foreshadow that chopper will play a big role on Sanji's wedding?
Maybe Sanji's life will be endangered because he'll meet and marry a beautiful lady named Purin And Sanji will lose a lot of blood because of severe perverted nosebleed and the only one who can save his life is none other than his great crewmate doctor Chopper like what he did before in Fishman island.
Everyone of us has their own idea, thoughts and opinions about Sanji's wedding so share it to us nakamas!
*Theory by Fire_Fist_Recca
Lola's Mother is the final Yonko – Myth & Fact
Myth: Lola said that her mother is an incredibly powerful pirate, and that Nami should try to find her if she was in trouble. She's probably the last Yonko, Big Mom! The Yonko are said to control the New World, where Lola comes from, and Big Mom's jolly roger features stout red lips, a feature that Lola has.
Fact: The final Yonko is revealed to be called Charlotte Linlin, but there is still no confirmation that she is Lola's mother.
BIG MOM HAS THE SPIDER DEVIL FRUIT
Here's another one for ya guys: Big Mom could have the Spider Spider Fruit.
This whole Idea started from the fact that CHARLOTTE'S Web is about a spider that has the same name as BIG MOM. Then I started thinking and researching on spiders more and found some interesting connections. Let me show you them: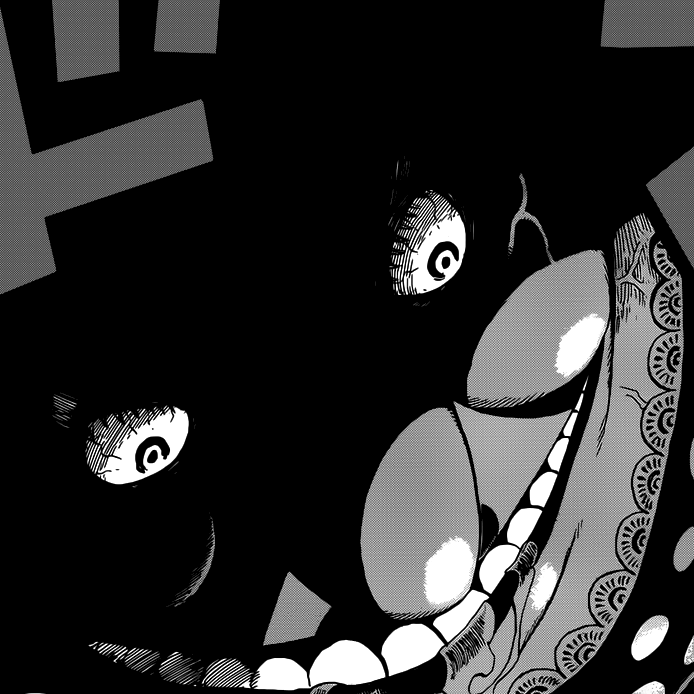 Spiders can lay more than 500 eggs.
-good reason why Big Mom has 35 daughters
Spiders eat insects but do not eat plants
-Big Mom, since she has massive power as a Yonko, might see humans as "insects". And she doesnt eat "vegetables(plants)", only sweets.
Interesting enough, i found out that female spiders eat their mates even while mating.
-It Explains why she eats her own kind. Humans.
Spiders can use VENOM
-Big Mom's nasty ass saliva could be mixed with the venom and acid in her body. So that stuff is probably DEADLY. Watch out for the big mom. All she has to do is drool on you and you're dead. A YONKO's power.
Now I didnt say anything about "webs". I just said that she has the "spider" fruit because I really don't want her to be another doflamingo.
I don't know much about card games, but everyone that has owned a windows xp should know the game, Spider Solitaire.
-Oda seems to be using card games in the story now. Maybe Big Mom could've came from this. Who knows?
Anyways, thanks for reading. Please tell me what you think down below.
*Theory by Icecream001
We all know that Sanji's from North Blue, though he met the crew while working at Baratie Restaurant in East Blue. We also know that Red Line divides the world in two parts, with three seas each:
1. East Blue + Grand Line (Paradise) + South Blue.
2. North Blue + Grand Line (New World) + West Blue.

From that, we can assume that there's only 2 ways of getting to East Blue from North Blue:
1. Reverse Mountain and Calm Belt. This means, entering Grand Line from North Blue through Reverse Mountain and then exiting Grand Line through Calm Belt to East Blue. This is the "easiest" way, though there's a high probability of dying in Reverse Mountain and even more in Calm Belt.
2. Mariejois. I don't really have any idea on how to enter Mariejois except from scaling the Red Line at the end of Paradise or at the beggining of New World, but there must be some way to do so, reserved only to nobles or tenryuubitos and their staff (we saw Tenryuubitos and some of his servants back at Sabaody).
From my point of view, the first option is impossible. Why? Well, when the Strawhats were about to enter Grand Line, Sanji didn't have any idea of what Reverse Mountain was, so it's quite obvious that he hadn't travelled through it as a kid.
The only possibility would be Mariejois then. So this gives more credibility to the theory that says that Sanji is a noble of some kind. He could have been to Mariejois as a kid with his noble family and he took advantage of the situation to escape from them, later being able to get in a cook's ship that would bring him to East Blue. But then again, Oda always surprises, so we don't know what he's got prepared (could it be about to be revealed, could it have something to do with Sanji's current "disappearance"?
There might also be a third way of getting to East Blue from North Blue, though I find it highly anticlimatic. The thing would be that one could cross Red Line in some parts of the Blues, meaning that not the whole Red Line would be a cliff as in Grand Line, but that it would rather have some places similar to beaches where ships could dock, thus being able to cross from one side to another. If this was true, though, I think One Piece would lose his characteristic "divided world" theme, which I think is the main point of the series (there's a world divided in four pieces waiting to be reunited in one single piece).
Anyways, this is it, guys. I guess it's not much of a theory, but instead it's more of a punctualization that gives credibility to the theory of Sanji being a noble. Hope you liked it!
Feel free to share your thoughts on how Sanji could've got to East Blue as a kid.
*Theory by Jinbe